After getting spoiled with a wide selection of fantastic smoothies at AH in Amsterdam, seeing the options here are pretty depressing. We have like three different brands available and they're not that mind blowing. And since I found
frozen nectarines
and
blueberries
in the freezer this morning I blended them with some
soy milk, water, half a banana
and a little
apple-mango-puree
and a tsp. ground flax seeds. Took a tiny
apple
(seriously, can't resist buying small versions of things because I feel like they're made for me) and a
Lubs bar
to school. 
The fruit bar was bleh, rather dry and not worth the money. I made some kind of Lara bar fakes this afternoon (they're not available here, but I wanted to know what the hype is all about). Didn't add any nuts though after the dryness of the bar from this morning and made
Date-Cranberry-Banana, Date-Mango-Apple-Pineapple
and
Date-Apple-Cranberr
y ones instead. All the dried fruit was bought long before I went to Amsterdam so the expiration date was coming close and since back then I bought them with the intention to make the Lara bars anyway I figured now or never. I was actually afraid my blender would die on me, but it worked surprisingly well.
I also still had a chocolate coconut bar lying around that tasted fucking brilliant!
And some blueberry yogurt with banana and a ripped date-cocount confect.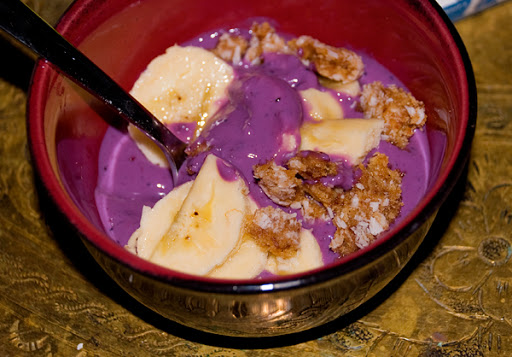 Gotta pack some more food on days where we do so many calculations and theoretical stuff at school though, I felt like I was dying.
On days like these I wish I lived with
Erin
and would get a Lunchbox like hers (
all the
friggin goodness
) prepared every morning. This lady really knows how to lunch!